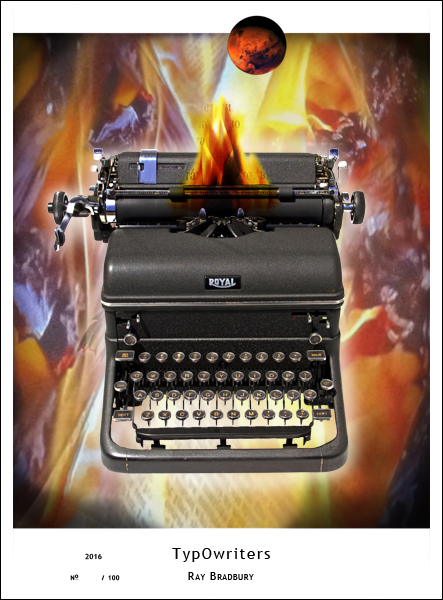 The Big Read LA Upcoming F451 Type-In & Exhibition
Vintage Pop Artist LA Marler (Louise Anne Marler) announces an upcoming community celebration of Ray Bradbury's science fiction literary masterpiece, "Fahrenheit 451," through multi-disciplinary arts and activities with the F451 Type-In on June 25th in Venice, California.
This unique gathering of readers of Bradbury's science fiction and typewriter enthusiasts will emphasize Bradbury's creative writing process and take place at Beyond Baroque Literary Art Center in the Venice Arts District. Admission is free and fun for all ages.
Title: F451 Type-In
Location: Beyond Baroque, Literary Art Center, 681 Venice Blvd., CA 90291
Date: June 25, 2016
Time: 1-4 pm
Admission: Free and open to the public. Fun for all ages.
The Interactive Event, "F451 Type-In" will feature various fun activities, such as:
• BYOT – bring your own typewriter – to show and tell your typewriter story
• Typewriter Poetry Performance Installation
• Igniting the relationship – Erica Di Bona demonstrates her powerful practice of typing "Thank you" letters
• Special Sci Fi writers workshop with Chuck Rosenthal
• LAFD Station #63 – Fire Engine demonstration 
• Silent Auction & Raffle
• Chili in the Poet's Garden – tastebud burning & other food & beverages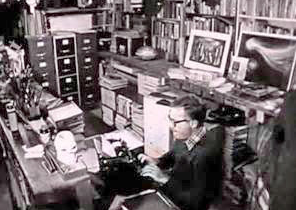 More About F451 Art Exhibit
Artists: Shepard Fairey, Robbie Conal, Scotto Mycklebust, LA Marler, Kim Abeles, Sandy Bliefer and Select Mexican Cultural Institute students artwork inspired by the reading of "Fahrenheit 451".
In salute of the author's work, Marler's "Ray Bradbury TypOwriter" mixed media art will be on display. Bradbury's 1947 Royal KMM typewriter art features a blazing writing machine surrounded by burnt text, inspired by "Fahrenheit 451." This stunning work as well as the giclée limited-edition is offered for sale at the event with a portion of the sales being donated towards journalism scholarships through the Jim Murray Memorial Foundation. The Mike Kelley Art Gallery (Inside Beyond Baroque) Exhibit will also have a typewriter like author's own machine, other prominent typewriter artists and students' participating in TBRLA.
Title: F451 Art Exhibition
Location: Mike Kelley Gallery Beyond Baroque, 681 Venice Blvd., CA 90291
Date: June 20th – July 11th, Artists Reception June 25th
Time: 4-8 pm
The Big Read is a program of the National Endowment for the Arts in partnership with Arts Midwest. It is designed to restore reading as central in American culture. The Big Read brings together partners across the U.S.A. encouraging reading for pleasure and enlightenment. This is the eighth year the NEA has awarded a grant to the City of Los Angeles Department of Cultural Affairs. The event will benefit Beyond Baroque.