There is a term for the act of going all out to impress your dying father, although I don't know it, just felt it. It was naturally directing. When my mother and I drove up to Milwaukee, Wisconsin in 2014 for the International Typewriter Collectors Convention, that was what I was doing. Well partly, it was also to give mom a break from the care-taking and fact of losing her life-love and partner. It was a safe get-away toward the all too familiar topic of typewriters. We lived and breathed typewriters in the Marler family. There was no separation of family and business.
We were there engaging with strangers on a topic that we knew simply compared to the mostly men who had turned it into a scientific phenom. Through the desire to be taken seriously, I tried to learn something about the machines and group, politely. Mom could never be bothered by such matters, head down, she giggled softly about her novel. It was better than telling everyone our boss was just there, paused. What we took for granted as tradespeople, they hunted internationally as connoisseurs.
I wanted to do something more creative with them, like ahh, yeah, write. Shut down, turned and put on the straight and narrow path of business school, only my soul – the immaterial part – wrote poetry, occasionally. Years went by and snap to Los Angeles and Apple Computer saving this soul in a young woman's body. Graphic design became my course of commercial creativity that carefully used an old rangefinder camera for artful compositions. And the digital camera once again opened my heaven's gate… making beauty of available objects, in a digital but, good old folk art way. It all came back to typewriters, the muse.
After all that dancing around the pretty edge of international typewriters, I told dad,  "We would be OK. And it was OK for him to let go." Realizing the shift and my new roll, we could not see one another again, I came home to LA.
Echoing a floating notion to my typewriter safe-house friend, Erica, "I wish the Smithsonian would have a Typewriter exhibit." In her quick and definitive manner, she said, "Vin is on the Board of Directors… I will type the proposal and make sure it is under his arm when he gets on the plane tomorrow." Wow, what just happened, really, nice.
Convos and emails and drafts and CCs and conferencing and the waiting. The waiting and wondering about a place I have never been. The ideas, that I fount and share with Erica and the institution's committee. The long pauses. The probably nots. The bills. The persistence.
Then the Tom Hanks clammer. Oh yes, he was an immediate green light for them. Erica swiftly puts her paper through the roller into her electric typewriter to do one of the things she does best, type witty, poignant letters. And she does. She does so reliably and lovingly and successfully, that it is awesome. Awesome not in a surfer way, but in a true Californian way – true to her personal self-expression, classic with such impact. She kept my name on all that correspondence – he letters, emails, calls like a true friend.
As I plunked along in my work-a-day, always giving-it-away, way, a letter arrived from Tom Hanks to Erica and Louise consenting to donating a typewriter to the Smithsonian. Hooray. It is good to be Tom Hanks. That was easy.
Of course, Steve Soboroff with his famous authors and actors typewriter collection was next. They were obvious and quick. Their people check it right off the list. Great. But.
And finally the "But, what about me?" had to assert itself. The Work and Industry section of the Museum, just like the working artist, has needs too. So they surveyed the SI Collection and let me know they needed colorful 1950s machines. Now that was something I could contribute. Called Laura, my sister, to see what we had. The light green Quiet De Lux, Royal, is so cute that it was hard to give up, even for the greater good of America.
Tempered eternal instinct combined with intensity of a thorough and complete story ensued. Fortunately my sister is the eldest of our generation and kept the Office Machine Business open, to his dying end, as well as all the last two generations of family photos. So my task of putting it in chronological order from 1920s to 2015 and photographing all materials was like one of the many publishing projects I have produced.
Smithsonian Institute people wanted multiple pieces of family business history too. Starting with Lawrence Sr. in the army, he learned typewriter repair which was really important for reports from the trenches and letters home. His letter, on Royal Typewriter Company letterhead (where he went to work) to Estelle Koviak, July 4th, 1927 declaring his move into sales, making more money and longing for her. A working man's love story becomes is a photo of he and wife and four kids on a couch.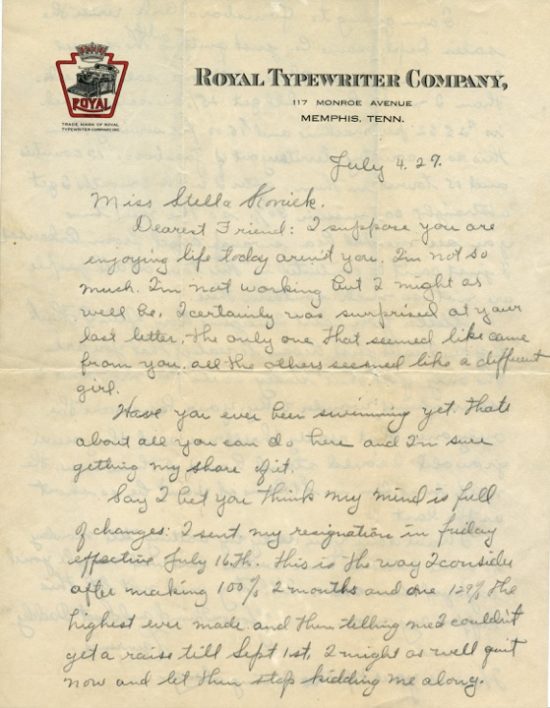 Highlights of dad and his brothers glory years in the late 60s, throughout the 70s, correspondence with manufacturers with all sorts of tech advances. A prized Small Business Administration certificate signed by President Carter for dad's model and advocacy of small businesses.
All the way to the "You are my type." limited edition fine art. Just like dad not understanding the innate path of an artist daughter, or valuing of artwork, the relevance of my typewriter art was questioned. There will always be the structured traditionalists, who are sure that how it was must continue, even now with open source information, in the age of aquarius!
There is no doubt that my artwork is an extension of the family typewriter business. So it was deliberately shipped with the other items, forever more. The Marler inclusion in the National Museum of American History is not just a Work & Industry theme, yet also a love story and story of liberty.
###